Project MindPulse
Standards from 6 to 110 years old
1. Check that the volunteer matches the recruitment goals ¹ on recruitment goals ¹
2. Go to this page
3. Enter your registration email address on the MindPulse site (contact email address)
4. Select, if necessary, the "2021 Standards" protocol
5. Choose the protocol corresponding to the age of the volunteer: Adults or Children (minors)
6. Let yourself be guided!
7. Once all the information has been filled in, an activation key will be automatically generated in order to launch the MindPulse. Double click on the file to launch the application.
8. At the end of the MindPulse, do not forget to fill in the volunteer inclusion code in the correspondence table transmitted.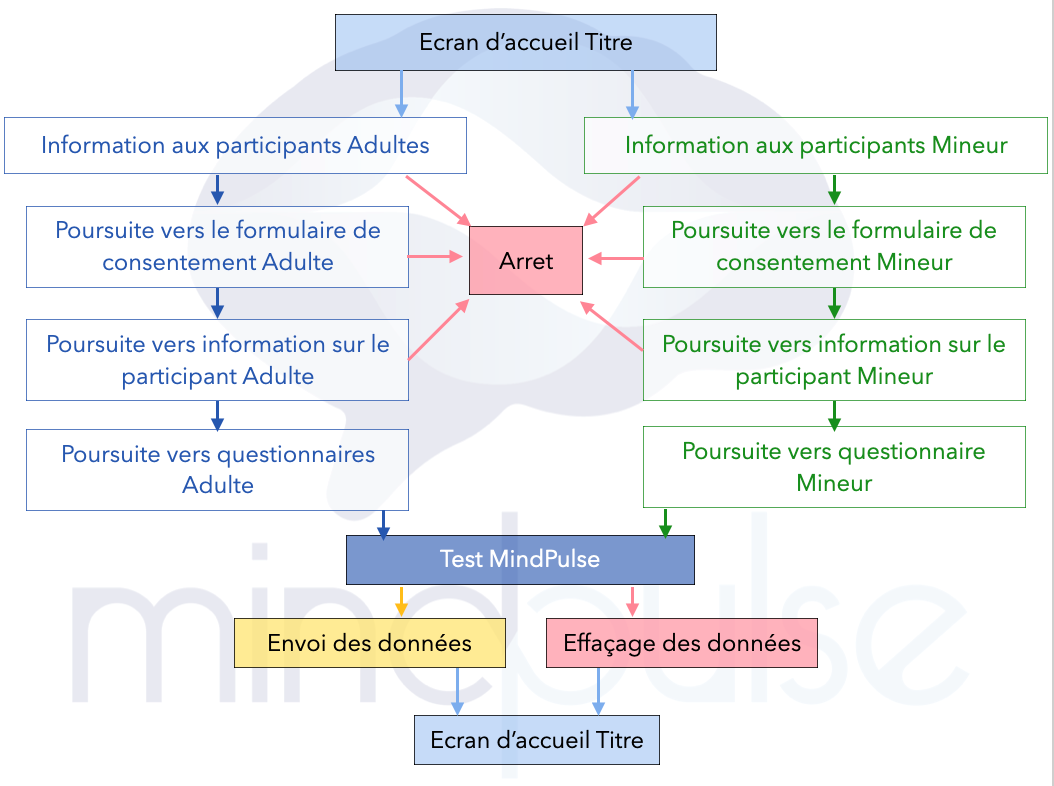 Contacts - Links & Useful Information
Promoter Code:
RCB ID: 2019-A01718-49 - Category 3 non-interventional research.
Reference: CNRIPH 19.09.05.62339 - 2-19-090 id5427: MS3
​
Promoter :
It's Brain SAS
IT'S BRAIN Building PYTHAGORE The Algorithms Chemin de l'Orme CD 128 91190 SAINT-AUBIN
www.itsbrain.fr
​
Study investigator :
Dr. Sandra Suarez (PhD Neurosciences), Psychologist-Neuropsychologist at It's Brain
Project Coordinator: Dr Charlotte Mennetrey (PhD), Psychologist-Neuropsychologist at It's Brain
Preparation of the protocol with volunteer clinicians and signing of collaboration contracts
1 st

March 2021
Opening of the study
1 st

March 2021
Collection of normative data from volunteers by clinicians:
From March 1 st

2021 to December 31, 2021
Sending data via a secure parallel protocol (over the water)
From March 1 st

2021 to December 31, 2021
Closure of data collection
January 15, 2022
Data processing
January 16, 2022 to January 31, 2022.
Publication of results
March 20022
Lists of medical, neurological or psychiatric histories that do not allow participation in the calibration of the MindPulse
Generals
Uncorrected vision difficulties.
Illness in progress tiring the person, even mild (do not take the test if you have fever, flu, tonsillitis etc.)
Neuropsychiatric
Head trauma (with loss of consciousness> 1 hour)
Stroke
Epilepsy
Parkinson disease
Brain tumor
Autre maladie neurologique provoquant des difficultés cognitives
Depression requiring drug treatment and / or psychiatric follow-up.
Autism
Bipolar disorders
Schizophrenia
Invasive trouble of the development
Mental retardation
Psychosis
Any psychiatric impairment requiring medical monitoring and / or drug treatment.
Infectious
Neuropalaria
Cognitive impairment of HIV
Neurosyphilis
Neuro-infectious disease having left cognitive sequelae
Cognitive
Trouble déficitaire de l'attention avec ou sans hyperactivité́
Psychomotor slowing down.
Vigilance disorder.
Lifestyle
Regular alcohol> 2 glasses / day
Acute alcohol in the 24 hours before the test
Psychotropic Occasional or Regular (no psychotropic drugs in the month preceding the test).
Drugs Occasional or Regular (no drugs in the month preceding the test).
Frequent sleep problems (insomnia, sleep disturbances, sleep apnea) ie more than once a week. Acute lack of sleep the night before the test (less than 5 hours of sleep)
Ongoing treatments
Excluded are all treatments likely to modify mood or alertness (please check the instructions for your medications) and in particular all psychotropic drugs, antidepressants, sleeping pills, anxiolytics, etc.